© Lorem ipsum dolor sit Nulla in mollit pariatur in, est ut dolor eu eiusmod lorem

Ideas & Influences
Crime & Punishment
My fascination with crime certainly came
from early childhood. We watched the
news every night as a family. November,
1978, I saw the aftermath of the
Jonestown Massacre. This has stuck with
me my whole life.
I have read quite
a lot about the
subject & made
numerous art
influenced by it.
The one image
that I think is the
most haunting is
the pictures of
the bodies in the pavillion with the hand
lettered sign hanging above- "Those who
do not remember the past are
condemned to repeat it." This is a quote
that has been said often in various
versions, but we still don't get it. I have
never forgotten & have spent my life
haunted. My hope is that art can have the
power to impact dialogue & hopefully
initiate change.
The Double Portrait
Portraiture has always been one of my
first loves- trying to figure people out. So
often, they make no sense at all. As a
child, I would do impressions. Mary & I
would do whole skits. At the time, I did
not understand the idea of the double
portrait. Honestly, this is a fairly recent
idea, but I like to think the seeds were
always there. When I was driving (best
ideas happen in the car), it all of a sudden
dawned on me; the thought of making a
single portrait of two people.
Watching comedians recreate these well
known people has always amazed me.
"Bill Hader Mesmerizes as Lil Vivvy" was
one of the first portraits in this series. Big
fan of Grey Gardens so when I saw the
parody I couldn't get it out of my head.
This work is a real two-fer for me. I can
pay homage to both people. I know I'm
alone, but I just want to say Justin Bieber,
keep talking. I have taken a break from
the series but have plans for more.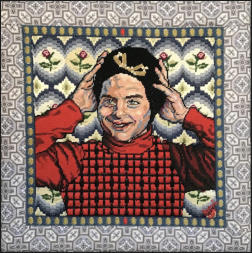 Slow Down to See the
Train Wreck
I have been focused a lot on women's
issues in my work. The series I am
working on currently (2021, just in case I
am being lazy about updating this site) is
an evolution on the ideas I have been
exploring. I must give my daughter Kira
the
majority
of the
credit. I
give her
books
for
holidays
& got
her Sady
Dolye's,
Trainwreck:The Women We Love to Hate,
Mock, & Fear.. & Why

. I read the free
summary & knew that Kira would love it!
(She let me read it first.) Before I had even
got the book, Kira had suggested making
some work about "Mean Girls" - a movie
we have watched quite a bit.
"Lindsay Lohan is…" was the first entry
into this series. I didn't want to show her
as a broken girl really, but I did want to
point out the irony of her starring in
"Mean Girls" & what transpired later on.
The book really brought the idea home of
how girls are conditioned early on with
the images of the girls we should be vs.
what happens to the ones who refuse to
be this. My mom is a reader & didn't give
us the candy coated versions of these
stories. We read in graphic detail about
the horrible, bloody things that happened
to bad girls. Doyle points out that we are
still doing these terrible things to very real
girls. Hopefully, this series has
contributed to this dialogue.



Black Christmas,
Black Humour
Horror movies & comedy were a staple of
my childhood & perhaps, my life. Nana is
always quoted as saying, "It's better to
laugh than to cry. If I started crying, I
might not stop." This was my family joking
in the middle of the great tragedies.
Comedy was survival. These ideas come
up constantly in my work. My subject
matter is often quite dark- bloody even,
but I try to bring the humour…. well, it
makes me laugh.
"Tampons" came out of this world. It was
the first in a series about the
contradictions I feel when seeing
feminine hygiene ads vs. my own
experience. Sorry, I won't be going to the
disco in that white jumpsuit. This portrait
of Carrie also harkens to my
overwhelming fears of having a monthly
traumatic experience played out in front
of the whole world. I don't think I'm alone.
It also precurses the "This Girl is…" series.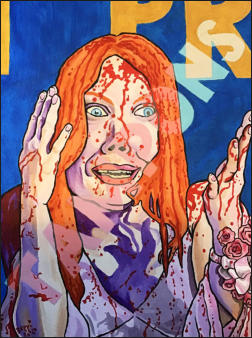 Making a Comic
My sister Mary is a writer. Illustrating
comics with her has really made me
appreciate how brilliant she really is. She
is also probably one of the only writers I
would really want to work with on a
comic. Most writers want the artist to be
their bitch! Reading the things in the
backs of graphic novels about the making
of the books make me think this is not
just me.
Mary gives me stacks of writing & let's me
do whatever I want. This is how I work
best. I need complete freedom to create
my best work. I often feel that I am able
to better understand the writing when I
start drawing it out. New ideas emerge.
Mary writes a lot of spoken word poems
& one-liners. She allows me to
Frankenstein the work together. I am very
proud of the work we have created
together. Growing up together, we have
the same humour & it's dark…. very dark.
"Being born is like being
kidnapped."- Warhol
My relationship with Andy Warhol has
been my longest. When I was younger, I
read my copy of

The Philosophy of Andy
Warhol

until it was dog-eared & worn. I
still have it along with various other
books by him & about him. I suppose he
spoke to me because I too have always
been fascinated by pop culture, celebrity,
stars. This was very taboo in my
household. My mom hated television. We
had a black & white tv until I was 12 years
old. We only got a new one because the
old one would no longer receive PBS.
I taught myself to screen print in the most
old school of ways- I hand paint every
screen. Andy would be appalled! I began
doing this so I could have cool t-shirts.
Old Hollywood stars were often
showcased in my prints & other mediums
of art. Having that black & white set, I
grew up watching all the old movies.
Nothing was in color- "Charlie's Angels",
"Sunset Boulevard", all sans color. With
my love of Warhol, I can't believe it took
me so long to marry paintings with the
prints. It really came from the place of
necessity. I was offered an opportunity to
be a featured artist at The Baltimore Art
Gallery & their model created a need to
make a lot of work in a short amount of
time. Way to go Kristen & Sonny!! Thanks!
& thank you to my first true love, Andy
Warhol!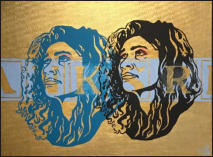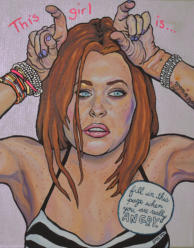 The Susan Hayward of it all…